Birth of the song:: Shree Mataji ke Charon mein, Tan Man Arpit
Recollecting the very special moments with Shree Mataji is a very sensitive and touchy part of my life. Her undivided attention on me was so unbelievable. Me, such an ordinary person. And She the Goddess. And yet the connect was so much personal.
She took her time to show me, that She existed within me. Specially when from the moment I met her, there was always some occasion where in I got the opportunity to be in Her Divine presence. Silently She worked on me. I remember when my family was asked to meet her in Delhi in 1986 October, She called upon each one of us to wash her Feet. She talked to us very freely, wanting to know about each one of us and telling us about Sahaja Yoga.
Little little things were discussed, that sounded so mundane, but we're very relevant to us as a family. The whole atmosphere was charged with Chaitanya. My heart raced very fast as She called me to apply ittar on her feet. Then she directed me to rub my vishudhi fingers very gently on her toes. There was smell of Geru, Ittar, rose.. it was celestial.
Then very gently she asked me to recite a poem. That was the year when I was writing poetry on whatever subject she spoke. On that particular day, I remember, I was reading out my poem to her (words changed from a popular film song), when somewhere in the middle of my narration, she closed her eyes & burst into words, prompting me to rewrite what I had already written.
She was offering Divine words for my Poetry.
Immediately I started to jot down. And quite perfectly the words got set in both tune and rhythm so perfectly. The poem was about gratitude & how Shree Mataji, by Her love and grace had brought us so close to our Shiva Tattwa. Yes, my heart had begun to melt and I found an immense flow of love oozing from within. Then when she opened her eyes, I saw that glow of love in them. Her smile and the warmth of Mother simply engulfed me. It was more than a hug. Can't describe how close I felt to Her.
When she nodded her head and asked me, if I had understood what She meant to say in the poem, my eyes were moist with joy unlimited. I knew this was Heaven. Yes this was that moment for which I was born. I felt fulfilled in every way. Then She told me that this song itself was like a Puja to Her.

I had realised that She had begun to work on my heart, my Vishuddhi and my Swadishthan chakras. The poem emerged so beautiful…….
" Shree Mataji ke Charon mein, Tan Man Arpit, Hrud-Kamal mein Jyot saji Shiv Ki.
Maa ke prem se humko sab kuch Mila. Prem unse bahe, jaise Ganga heem ki…….

This bhajan was finally recorded after a few months and figured in my first ever music album released by Shree Mataji at Ganapatiphule that very December. The Cassette was Adi Shakti Pujan Vol 1.

You can find this song lyrics with meanings in my website www.sanjayroshantalwar.com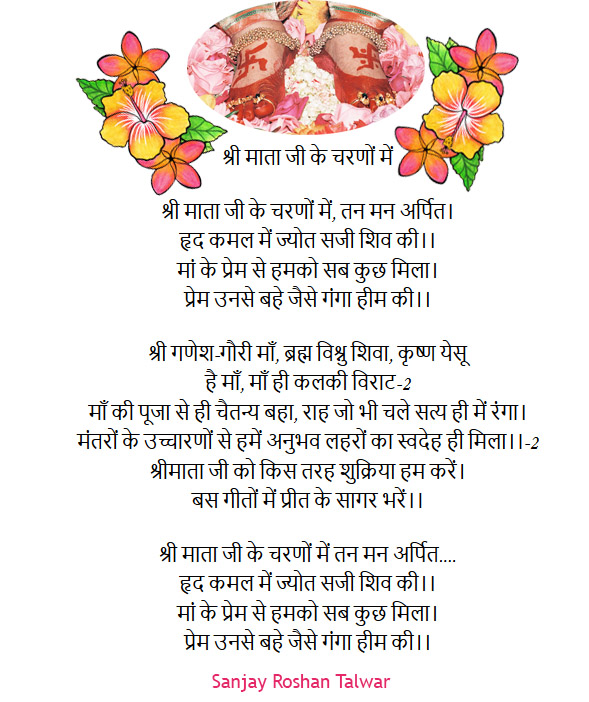 Translation in English::
TRANSLATION
0 Mother! We surrender our body, mind and intellect at your lotus feet;
May the light of Shiva forever burn in our hearts.
From your Divine love, we have got everything in life.
Your love is like a flow of the Ganga from the Himalayas.
You are Shri Ganesha and Gauri Ma.
It is you who is Sri Brahma, Vishnu and Shiva.
You are Sri Krishna and Lord Jesus and you alone are Maha Kalki and Virat.
By offering our prayers to you, O Great one!
We have Brahma-Chaitanya flowing within us.
So that in whatever walk of life we be, it is always colored with truth and truth alone.
By the chanting of your Mantras, we have experienced the flow of vibrations increase within us.
How can we ever thank you and be grateful?
Maybe, if we could just continue to fill our hearts with songs of love and praises for you.
0 Mother! we surrender our body, mind and intellect at your lotus feet.