BREAKING NEWS
News18.com covers preview screening of film Grihalakshmi – The Awakening
Grihalakshmi-The Awakening premiered in Delhi's Films Division auditorium on Tuesday. The intimate screening was organised by members of Immaculate Ideal Human Foundation and is inspired by Shri Mataji Nirmala Devi's technique of 'Sahaja Yoga Meditation'.
Dr Rajiv Kumar, Vice Chairman of policy think tank Niti Aayog, was welcomed by the Managing Trustee of Immaculate Ideal Human Foundation, Mr Sanjay Roshan Talwar. An experimental film, Grihalakshmi, which runs a total of 72 mins in length, explores the concept of 'Sahaja Yoga Meditation' on the big screen through the story of two young sisters, Sheetal and Samaira, who come across the realisation of how to manage their lives better by accepting and imbibing the meditation concept into their lives.
The film opens with Sheetal and Samaira inside a room, former readying the latter for the big event of marriage. Enter the aunt from London, who seems rather surprised at the ongoing chemistry and understanding between the two. The sisters, together, make her understand how they reached the current level of bliss in a flashback that makes up for the major portion of the film that ties up themes like destiny, fate and cultural relationships on the backdrop of Sahaja Yoga or self-awareness.
Read more – Interview with Mr. Sanjay Roshan Talwar  by News 18 Team
Watch Trailer:

Certificate for GRIHALAKSHMI THE AWAKENING has been generated successfully .
Acknowledgement No. is 100050291900000283.
Certificate No is DIL/1/10/2019-DEL.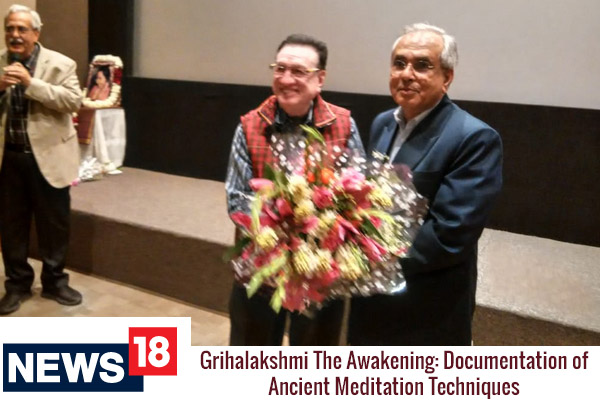 Dr Rajiv Kumar was welcomed by Shri OP Goyal,
while Mr. Sanjay Talwar announced the release of the film.
More Reviews and testimonials received on various social networks:
It was simply awesome
Really enjoyed it.😊

Dr Kajal Mehra, a non Sahaja Yogi


Grihalakshmi movie was indeed marvellous.
The plot of story was perfect… timing of each stanza of the bhajans was awesome that enchanted the viewers frequently with melodious voice…
Session was very well managed !
Such movies pave the way for transforming the humanity.
May Shree Mataji bless entire team for their wonderful work !
Jai Shree Mataji

Sahaja Yogi from Delhi

Very well done. All the very best..Jai Shri Mataji

Dr. Rajiv Kumar, Sahaja ogi who watched the film with his entire family

Dear Sanjay n to your Lovely family…..a huge applause for a magnificent step in a direction which will revolutionise …..The word YOGA, PEACE, HAPPINESS….
Your concept was brilliant and cast did a good job of the script.
Please do give Me the liberty to Claim ,That your Melodious Voice has Matured a 1000 times , since the late 60's.
God bless you all the success in your New venture.
** is it possible to have the recording your song …..Please.
Look forward to.!
Best in Times ahead.

Mr Satish Bakshi

Dear Sanju,

Thank you for giving me an opportunity to get another good experience in life . Congrats on the very sensitive movie you have made . I personally was taken by the way the movie gave it's message . It went to the heart as it came in a natural way and not hammered down , which typical religouos movies tend to do . It was well supported by some brilliant acting . The younger sister portrayed her serenity so very well on her face thru out the movie . The boys mother showed such elegance as only someone from a rich cultured family can do . I think all actors had put their heart in their roles . Showing the video post the movie was a brilliant idea as it closed the loop after the movie had opened the doors to a new way of life . Thank you dear Sanju and Aradhna was this lovely learning and experience . May God bless you both to keep doing more good service for humanity .

Dr Kamaljit

Thank you very much for inviting us for the film show. Do you have Sahajyog centres in Ontario? Great job done by your team!

Mr Sanjay Dhingra, an NRI from Canada

Jai Sheer Mataji,

We all appreciate the great work of Sh. Talwarji and his team and assure Sahajayoga Global family will financially support to this great cause of spreading message of Adisakhti and Sahajayoga and through this great film.

Dr Virendra Singh, Sahaja Yogi
Actor Bunee Chopra with Aparna Das (Delhi Doordarshan) , Aditya Chuarasi,
Shri OP Goyal & Sanjay Talwar

Those who wish to donate funds can transfer funds directly to our NGO Account as listed below:
(All Donations are 50% Tax Exempt)
 IMMACULATE IDEAL HUMAN FOUNDATION
Current Account Nr 6147002100000193
Punjab National Bank, Delhi Gymkhana Club Branch
IFSC CODE: PUNB0614700