The launch of film Grihalakshmi – The Awakening as parallel cinema
Cinema often becomes a reflection of our daily lives. It is much more than a source of entertainment, and the emergence of parallel cinema only proves the point further. For those who are unaware, parallel cinema deals with issues and depiction different from its mainstream counterpart. There is bare realism associated with these movies, often ditching the glamour of traditional Indian cinema. Consequently, you will hardly ever find item songs or Rohit Shetty like fight sequences in these films.
The history of parallel cinema
The earlier era of Indian cinema was dominated heavily by adaptations of epics like Ramayana, Mahabharata etc. However, post-1920s, there was an arrival of the kind of cinema that began to challenge norms. Savkari Pash (1925), for example, was a silent film by Baburao Painter that revolved around a poor farmer and his woes. Raithu Bidda (1939) by Gudavalli Ramabrahmam criticised zamindars, the ones who had turned into tax collectors for the British government. The movie was subsequently banned by the colonizers.
From the late 1940s to1960s, India witnessed the emergence of parallel cinema on a larger scale, also referred to as the Golden Age of Indian Cinema. It was inspired by Italian Neorealism (a film movement that focused on the poor and working classes). Bengali cinema is credited with giving light to parallel cinema, with major directors like Satyajit Ray, Mrinal Sen, Tapan Sinha, Ritwik Ghatak etc holding the beacon. However, contrary to the popular opinion, Bengali cinema wasn't the only one putting the idea forward. Adoor Gopalakrishnan (Malayalam cinema), Girish Kasaravalli (Kannada cinema), K.N.T. Sastry (Telugu cinema) etc also worked in a similar direction and hence can be called the pioneers of Indian parallel cinema.
In those days, movies were heavily inspired by Indian literature. Till date, they are extensively studied by scholars to make inferences about the demographics, socio-economical as well as political environment of that era. Because of their unique perspective, they are also referred to as art movies and were frequently funded by state governments to promote an authentic Indian art genre.
Parallel cinema and our society
The emergence of parallel cinema had one simple aim: to give movie-goers something more than meaningless entertainment. It won't be too wrong to call it a "rebellious" branch of our otherwise conforming cinema. Cinema is a very powerful weapon that works both ways. While cinema influences people, people influence it right back. That is why, parallel cinema plays a very crucial role- mirroring our society, as well as affecting it. 
Source – our-parallel-cinema
How is Grihalakshmi – The Awakening a parallel cinema?
Well, this film is definitely not some 'meaningless entertainment' rather the most meaningful of all films! It not only talks about the emancipation of humans  but also teaches them to get their 'final liberation' or Moksha or Nirvana – whatever you know it as! It may be the first time in the histroy of world cinema that viewers who paid for the film ticket also got an opportunity of a lifetime – get their self realization!!
First Show of Grihalakshmi in Delhi – Ritz Cinema, Kashmiri Gate.

Comment from Whatsapp group:
Noida collectivity watched Gruhlakshmi today @ ritz cinema.. 🙏. Beautiful Movie. you all must watch this. It's really like a dream come true to watch and listen Shree mataji on a big screen… Feeling blessed after watching this movie. Great way to spread Shree mataji"s message of peace and harmony. How one can be transferred after getting his or her realisation 🙏🙏. All mother's working… Many many thanks to Talwar uncle who took this initiative to make such kind of movie based on Meditation . Real transformation take place by accepting sahajayoga and making it a part of life… So many new seekers have recieved what they all were searching for. THE REAL TRUTH. 🙏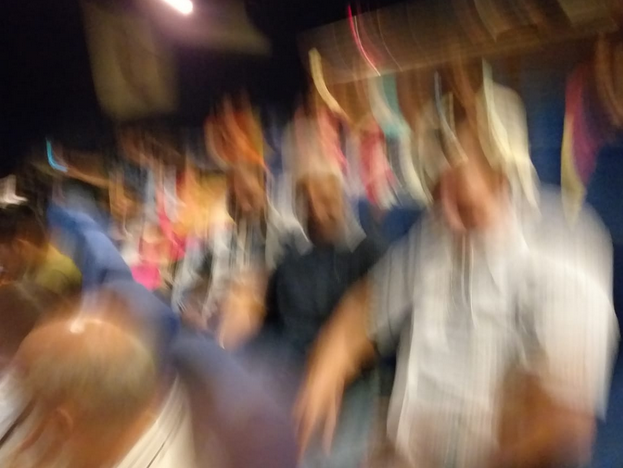 Today's film screening at 10 am at Ritz Cinema witnessed pure vibrations and colourful Kundalinis of seekers & Yogis during Self Realisation given aa after the movie. The Miracle of Sahaja Yoga brought out by GRIHALAKSHMI THE AWAKENING. All real yogis have joined this great movement. Making it the bestest way to spread Sahaja Yoga worldwide
Jai Shree Mataji
Love you all
Sanjay Roshan Talwar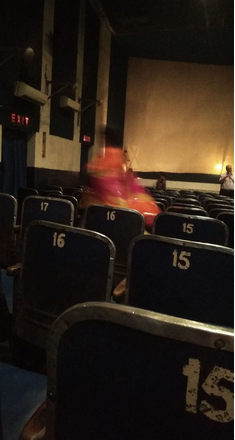 Pure Vibrations of the GRIHALAKSHMI herself rising….. at Ritz, Kashmere gate Delhi this morning at 9 am. Mother was present in the Hall.
More shows held at various parts of the country :
Film Grahalaxmi in GEM theater of Gaity and Galexy complex Bandra West, Mumbai
New Delhi show at 5.30 pm at Movietime Pitampura was HOUSEFULL
A historic 100% Houseful – The very first at Movietime Pitampura packed Hall of 297 seats. One third were new seekers who got their Self Realisation so beutifully. Kudos to the Delhi collectivity who achieved its third Houseful show in 3 straight days. The Cinema authorities bowed down to give us 3 more shows unconditionally. A rare feat by Delhi Yogis fulfilling the vision of Shree Mataji. Besides this last 3 morning shows at Ritz Cinemas showed near Houseful status with over one hundred seekers taking Self Realisation each day. All total we achieved 500 Self Realisation in just 3 days in 2 Cinema halls. With another 4 days to go for yet another historic showing. Film GRIHALAKSHMI THE AWAKENING felt the presence of Shree Mataji at Ritz Theater this morning, as she clearly showed up in a miracle photo adorned in the colourful Saree that we had decorated her alter with.
Images of self realization program after film :